Ofecemos una solución integral de Alojamiento, Descanso y Buena Mesa en Linares, Región del Maule a sólo 300 kms al Sur de Santiago. Estamos cerca de las Termas, Centros Artesanales y Pueblos típicos. También ofrecemos Programas para Grupos de 2 hasta 20 personas, utilizando como centro de operaciones Hostería El Bosque.
Nuestras instalaciones se encuentran certificadas como "Hostería Turista Superior" y contamos con Sello de Calidad Turística.

Para acceder al complejo, se debe ingresar a la ciudad de Linares en el kilómetro 300 de la Ruta 5 Sur, y atravesar la ciudad hasta la salida hacia las localidades de Panimávida y Colbún. La Hostería se ubica en el kilómetro 4, a mano izquierda, justo en la esquina del cruce con el Camino a San Juan, y se distingue por el letrero amarillo con el nombre.

También es posible llegar en Tren (Terrasur) o en Bus (Linata, Los Libertadores), ya que tanto desde la Estación de Ferrocarriles como desde el Terminal de Buses se puede utilizar el servicio de RadioTaxi para llegar a la Hostería, o bien se puede tomar un bus del recorrido Linares a Colbún, que salen cada 15 minutos desde el terminal, y lo dejan en la puerta de la Hostería, entre las 08:00 y las 20:30 hrs, todos los días del año.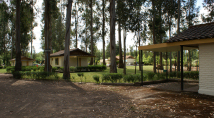 We offer a great lodging, resting and fine dining in Linares, Maule Region, just 300 kms. south from Santiago, our capitol city. We are near hot springs, Crafts centers and typical villages. We also offer group tours from 2 to 20 people, using as operation center Hostería El Bosque.
Our facilities are certified as "Superior Tourist Lodge" and we have the Tourism Quality Seal.

To get to "El Bosque", you have to enter Linares city at km. 300, and pass trough the city until you get to the Panimávida and Colbún exit. The lodge is located by km. 4, at the left hand of the road, just at the corner of the crossroad to San Juan road, and it will be highly identifiable because of the yellow sign with its name on it.

It's also possible to get there by train (Terrasur) or bus (Linatal, Los Libertadores), because both, the railroad station and bus station, have a radio - taxi service that will take you to the lodge, or you can take a Linares-Colbún bus that leaves every 15 minutes and gets you at the lodge gates, between 08:00 and 20:30 hrs. every day, all year round.